Brand Trust is on the Rise
Brand Trust is on the Rise
Every year, Edelman releases the Edelman Trust Barometer, and for the first time in a long time, consumers are starting to trust in brands again.
The Edelman Trust Barometer (embedded below from SlideShare) was first released in 2001, and its purpose has consistently been to show the state of trust of the average consumer (globally) in different bodies. Those bodies range from governments to NGOs to, most recently added, 'a person like me'. When this last one was added, we started to see some changes in the way marketing and, more universally, business works.
In 2005-2006, as social media began to take shape and brands began to adopt these new media as a means of sharing a message, reviews, experiences and stories began to rise as the most trustworthy sources for accurate information. Not much has changed today; most of us still turn to websites like Yelp! and TripAdvisor when trying to decide where to go to dinner, or where to stay on a vacation. But this year, something was seen that we have not seen since the Great Recession back in 2008.
The 2016 report shows a significant rise in the trust consumers have in brands themselves. Everyone from NGOs, to businesses, to media to governments saw a rise in the trust factor, with businesses themselves receiving the highest jump of five points. Transparency mixed with an increase in the size of the informed public has led the charge upward. But for the general public (not part of the informed public, that has seen a rise in trust) trust has decreased. We're now in the midst of a significant trust gap (shown below).
Now, I won't dive too deep into the correlations found in terms of income inequality and trust disparity (those you can review in the complete report below) but suffice it to say that it is all pretty interesting. What's more, the countries identified as having these gaps might surprise quite a few of you (I was certainly surprised by some).
The Exciting Stuff
All of these universal findings are noteworthy – that's for certain. But when it comes to my interests – both professionally and personally – I have to say that the focus on influence and the value it holds in terms of trust is what I find most interesting.
When it comes to the sources most used (and trusted) for news and information, half – HALF – of the top sources are peer-influenced media. What is peer-influenced media, exactly? Media with low barriers to entry that are influenced by the population around them. So, while newspaper and television might not be peer-influenced (seeing as how there are significant barriers to entry and a small minority controlling what is deemed relevant content) blogs and social media are.
Once again this year, peers and experts are seen to be more credible than executives or even government officials. In fact, 'a person like yourself' received an impressive four point bump this year (CEOs received an eight point bump, but are still trusted by less than 50% of the general public).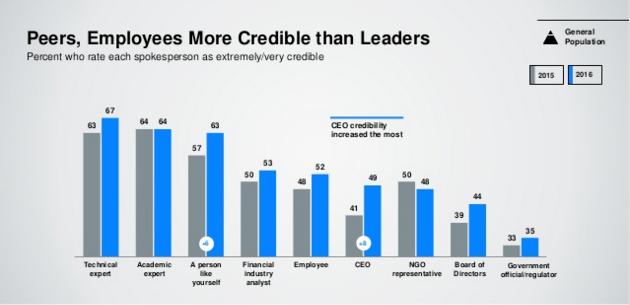 These rises, after years of low trust levels, present a great opportunity for business. While the informed public has been quicker to trust businesses, there is still an upward trend on which brands can capitalize. The key, however, is going to be living up to expectations.
With every move a brand makes being thoroughly scrutinized by the public, decisions need to be carefully considered. In today's fast-paced, highly social marketplace, it is hard to understand how so many companies still stumble. Granted, for a lot of organizations, these new media meant adaptation, and many are still in the process of meeting the learning curve. But now that 80% of the general population believes that companies can make money and do good, it's time to pay more attention to detail than ever before.
The startup culture has turned the CEO role from one shrouded in mystery, to one that the public wants to see more than anyone else. The positive side of this has been the rise in trust (from 41% to 49%) by the general public. The risk (to the executives themselves) is shifting focus away from traditional business metrics to social metrics. This is a hard culture to adopt, but one that the general population is deeming necessary.
See For Yourself
There is (unsurprisingly) a lot of great stuff in this year's Trust Barometer findings. Scroll through the slides below and see if anything catches your eye!
The following two tabs change content below.
Corey Padveen is Google AdWords Certified, Google Analytics Certified, a Certified Inbound Marketer and the Director of Global Social Business Strategy at t2 Marketing International. With an extensive background in econometrics and statistics, he helped pioneer the concepts of Social Equity and ResponsiveBranding. What's more, he is the primary author of the t2 Marketing International digital business blog, a contributing author to a number of reputable marketing publications including Search Engine Journal and Social Media Today and is a keynote speaker at digital marketing conferences around the world. Corey regularly shares his wealth of knowledge in the realm of digital marketing, data analysis and social media, and their applications to business in the digital age.
Latest posts by Corey Padveen (see all)